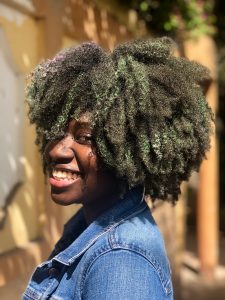 "I am black and I am confident."
Do you happen to say this to yourself?
I am writing this post for all of us because today, working on black community, black support and revalorization of what we represent is very important. This post is a summary of some of my previous post about motivation, confidence, self love and appreciation.
Because // Thanks to our history, we, today, have this level of confidence and appreciation Caucasian men and women might not have. Jasmine Zapata, 30, a pediatrician from Madison, Wisconsin, understands that phenomenon and says her family helped build her self-confidence. "I was brought up to be resilient and tough and to make it work despite your circumstances," she says. "That definitely raised my confidence and optimism."
In my post about SELF LOVE AND SELF TRUST, I talk about the fact that to need to know ourselves before loving ourselves. We need to understand what we represent. It is important to love and accept ourselves before others do. It will uplift our selftrust, our capacities, etc. It will boost us. When you accept and love yourself, you are stronger. You are real.
In my post abour HOW I STAY MOTIVATED , I show you how to work on your positivity. See positive vibes instead of negative ones. Incarnate the positive attitude and reject the negatives. Am being repetitive right? Here is the best advice I can give. Stay positive. Set up goals and objectives. You do not have to start big. For instance, why not making lists? Decide five things you want to do every day or every week. In addition, do your maximum to do it. Find your ability to conquer your mind. Before the act, there is the will. If you want to be, you can. If you have the will, you can do everything. Moreover, a good friend told me something interesting I could not understand at that moment. He said, « Motivation, just like love, does not shine forever. You need to keep some in reserve ».
In my post about CONFIDENCE AND SELF TALK, I tend to remind myself that I am blessed. I think about the pain and the misery that persist all around the world. I can feeling nothing but thankful to be safe, healthy and surrounded. Always keep going. Everything you want is powered by the will. Look at what you accomplished or what you want to accomplish. Always persevere, even in the harder moments. Allow yourself to rest, but never give up. You Matter, as much as anyone else does. Even when life is thought and hard, remember that, you are strong enough to beat it. Everything starts with you being incredibly amazing. You are bold because you are alive.
In my post about SHOW YOUR AFRICANITY #7 SELF-ACCEPTANCE OF OUR BLACKNESS, I remind how being black was not a good thing years ago. Despite of it, women of color are very happy and proud of their skin nowadays. They accept themselves. They are happy with themselves. Moreover, there is a lot more positive representation of black females all around the world. They are black, beautiful, fearless, powerful, and strong.
It is never easy. Confidence is a matter of self and inner work.