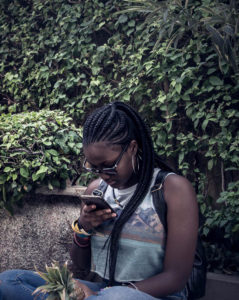 When it comes to music, we have so many genres: rap, soul, reggae, pop, alternative, etc. My type is rock.
[Definition of Rock Music by Google: a form of popular music which evolved from rock and roll and pop music during the mid and late 1960s. (Another term for rock and roll).]
I have to mention that I don't agree with this definition, but that's another debate.
A lot of people that surround me don't understand why and how come I love this genre. Maybe because I am Senegalese? Maybe because I am a black girl? That's very uncommon, I agree. That's also what's make it original I guess. Whenever a guy asks me what kind of music I listen to, my answer surprises them. They mostly reply things like "What? It's just noise. That's not music". Well, than that's the kind of noise I like.
I have to admit I am a total music lover. I listen to almost all types of music from Muddy Waters to Cardi B. But, the thing is that I feel more attracted to rock music.
To me,  rock music is different. It sounds more like a history.  A lot of people think that it's all about being desperate, suicide, death, sadness, etc. They are so wrong. It's totally not. It is all about passion and hopes; love, life, pain and anger. It's about everything as much as the other genres. I don't love rock music just because it is different. I love it because sometimes we love things and we can't explain. I love it because it helps me. When I am angry or desperate, I automatically listen to it. Believe it or not, it cheers me up more than anything else. Plus, the majority of the songs are inspired by the singers' life. As I see myself in some of the lyrics of those songs, I feel less alone.
Today, this group is one of my favorites. y rock lover journeys have been fantastic yet. I keep discovering amazing groups and artists I adore a little more every day. And, I am so happy I turned my best friend into a rock music lover as well. Our favorite group is Fall Out Boys.
PS: I can understand people around me judging the fact that I love and listen to rock music. The Senegalese society isn't easy to deal with. The stereotypes are super heavy, but it's another talk.